Titans Cheerleaders are the cheerleaders of Palos Hills High School, with Lissa Miller as the head cheerleader.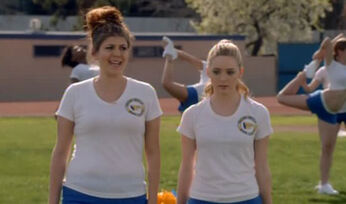 The Uniform
Color: Blue, White and Yellow
Uniform Layout: Traditional Styled-Uniform with White Turtle-Neck Under
Current Leaders
Current Members
See Also
Trivia
Sadie is jealous of Lissa's position as head cheerleader

Is also trying to make her quit.
Ad blocker interference detected!
Wikia is a free-to-use site that makes money from advertising. We have a modified experience for viewers using ad blockers

Wikia is not accessible if you've made further modifications. Remove the custom ad blocker rule(s) and the page will load as expected.